If you are traveling to Hong Kong with family, don't miss out on Victoria Harbor. It is one of the Must visits in Hong Kong. Both at day and night a great view. Enjoy the Hong Kong Skyline and the sea breeze from the ocean. Take the ferry or a boat tour and explore the area from the water.
We travelled to Hong Kong in the beginning of October and the weather was still hot and humid. It was not too hot to stop us exploring Hong Kong.
We strolled down the Avenue of Stars on the Tsim Sha Tsui Waterfront enjoying the spectacular view of the Hong Kong Skyline. On Avenue of Stars are statues and handprints of famous Hong Kong actors and actresses like Bruce Lee and Jackie Chan.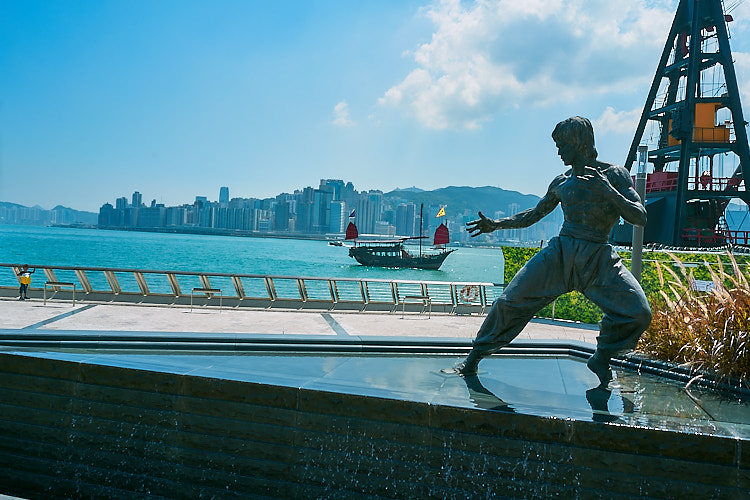 We passed by the Clock Tower, a historic building in Hong Kong. It was built 100 years ago and was a part of a railway station. Now it is a monument and a tourist attraction. Close to the Clock Tower is the Star Ferry pier.
We took the Star Ferry over to Central on Hong Kong Island. It is very convenient and fun for the kids to take the Star Ferry. If you are traveling to Hong Kong with family, take a boat ride over to Hong Kong Island. You pay a few Hong Kong Dollars and the easiest way is to use the Octopus card. The ride over to the other side is about 10-15 min.
On the Hong Kong Island we strolled down the other side of Victoria Harbor from Central to Wan Chai. From there is a different feeling of Victoria Harbor. You see the ICC building with the Sky100 observation deck, the tallest building in Hong Kong. However, there are not as many Skyscrapers on the Kowloon side as on Hong Kong Island side. The reason was height restrictions due to the old airport, which was located nearby.
From Wan Chai we took the Star Ferry back to Tsim Sha Tsui.
How to get there
An easy and quick way to get to Victoria's Harbour is to take the Subway...
Directions
Take the Red line to Tsim Sha Tsui
or the Purple line to East-Tsim Sha Tsui
Walk 5 min to Victoria's Harbour