From the Ngong Ping 360 Cable car we walked through the Ngong Ping village. There are several restaurants, clothing stores, toys and souvenir shops. Also VR, 4D and multimedia attractions about Buddha.
As we approached the area in front of the Big Buddha statue we saw cows walking freely around. There were signs saying it is not allowed to feed the cows. They looked very well kept and healthy. They were obviously used to people because they were calm and people could touch them.
The Big Buddha, also called Tian Tan Buddha is one of the biggest Buddha statues in the world. It is 34m tall and the most iconic attraction of Lantau Island. In the building underneath the statue are rooms for praying.
In front of the Big Buddha are six statues of women, named "The Offering of the Six Devas". They are posed offering flowers, incense, lamp, ointment, fruit, and music to the Buddha to symbolise the Six Perfections of generosity, morality, patience, zeal, meditation, and wisdom.
You need to walk up 268 stairs to reach the statue. It is not possible to go up with a baby stroller.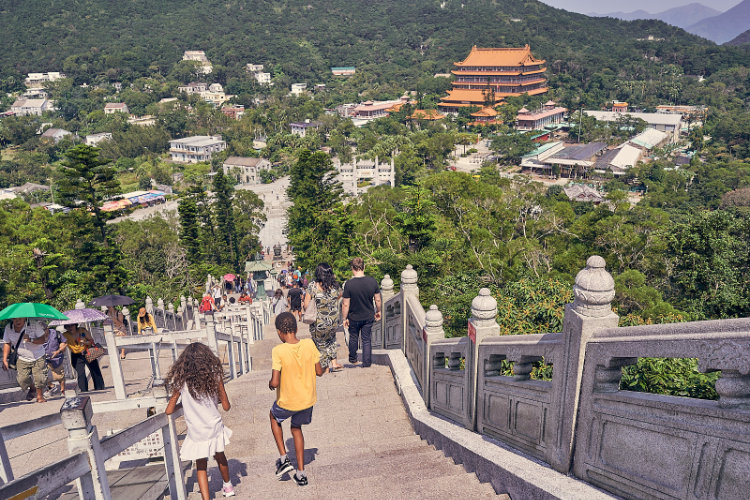 In front of the Big Buddha is the Po Lin Monastery. It is about 100 years old and famous for its majestic architecture and decorations.
How to get there
The easiest way to get to the Big Buddha is to take the Ngong Ping 360
Directions
From Downtown Hong Kong take the MRT Orange Line in direction Tung Chung.
Exit at Tung Chung station, the last station.
Follow the signs to Ngong Ping 360
It is a short walk outside to the Ngong Ping 360 terminal
When you exit the MRT station, you see a shopping outlet. The Ngong Ping 360 terminal is just behind it.