The Great Wall of China is AMAZING!
It is several thousand kilometers long, it is beyond fantasy. When you are at the Great Wall it just goes on and on, but still, you are only seeing a tiny tiny part of it.
By far the biggest building of mankind. Nothing else comes even close.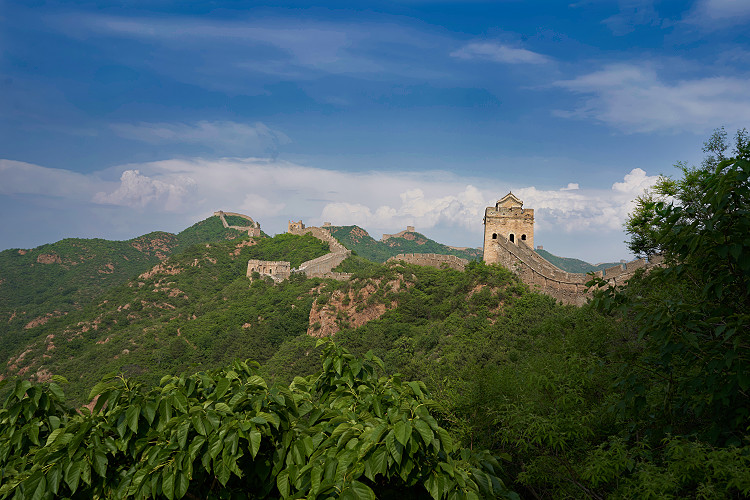 The Jinshanling Great Wall is about 150 km away from Beijing. Jinshanling means Gold Mountain Ridge. With car you reach it easily in 2 hours. The highway is good and easy to drive. Shortly before you exit the highway, you drive through tunnel under it. Well, they didnt expect that when they were building it, that somebody would drive through a tunnel under it. After you exit the highway you only have to drive a short distance to the parking lot.
We walked a short way to the ticket office and from there we took a shuttle to the cable car.
The cable car was small, just enough space for 2 adults or 1 adult and 2 children. It took us about 20 min to reach the top. You can also walk up and/or back down. There is a paved walking road. There were not many people. It was quiet and nice.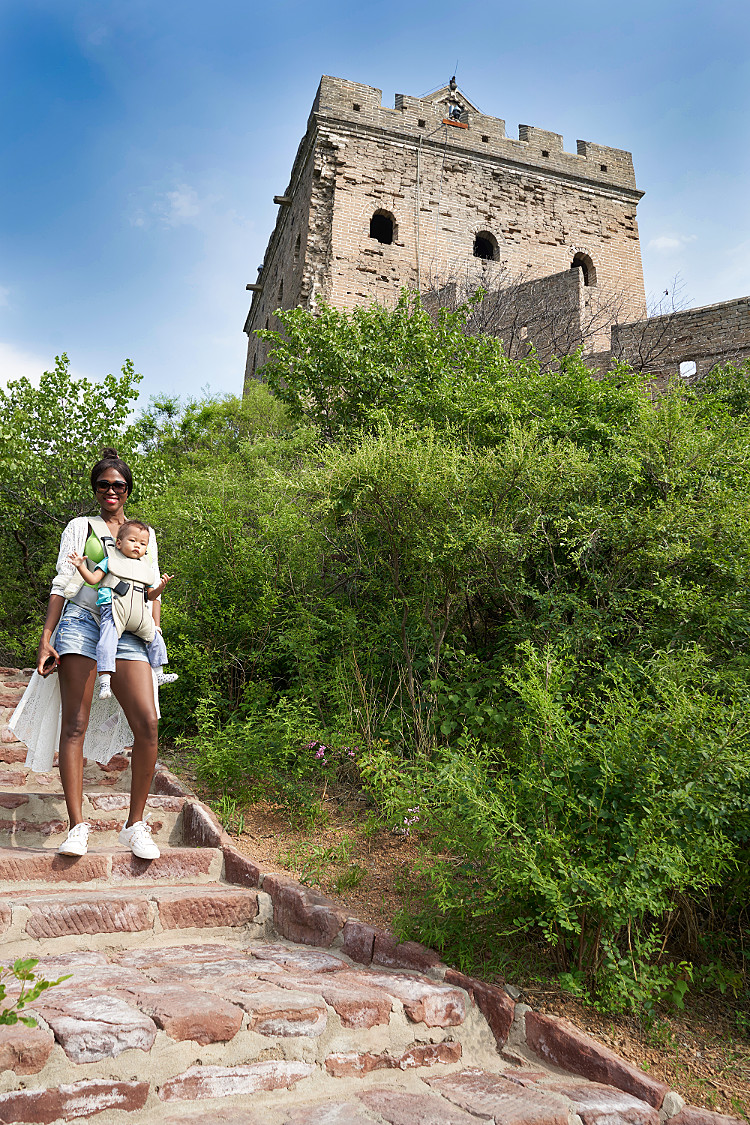 After coming to the top we had a magnificent view over the Great Wall. It was built during the Ming Dynasty 1368-1644. It is hard to imagine how they could do that without any machines. The wall goes on a mountain ridge. It is steep down in both directions. They had to carry all the stones up to the ridge. It is unbelievable.
This area of the Great Wall is popular for hiking. You can walk in both directions and go down in other areas if you want. The children loved to run along the wall, especially in the areas where it goes up and down. This section of the wall has several watchtowers. They were used for a lookout for the enemy.
There are several spots to do some amazing photos. If you are looking for a less crowded place on the Great Wall and enjoy amazing view, then Jinshanling is a good choice.
Bear in mind that there are lots of stairs to climb.
The kids loved running up and down the wall.
We took the cable car back down and stopped at the restaurant to have something to eat and drink. Everybody was hungry and thirsty after the hot day. Don't forget to take plenty of water with you if you want to hike on the wall. We had some simple Chinese food at the restaurant. The kids had noodles and it was not easy for the small one to eat the noodles with chopsticks.
It is not easy for the small ones to eat noodles with chopsticks. They didn't have any forks at the restaurant.
With Daddy's help it was easier
Using a Baby Carrier
When going around with a small child, it isn't always possible to use a baby stroller. Like here at the Great Wall of China there are a lot's of stairs and steps. As you can see on the pictures, I use a Baby Carrier. It keeps your hands free. The child likes to be near mummy and enjoys it. It saves lot's of time because you don't need to find elevators. A young child can face you and when it gets older it can face the front and explore. You can also carry the child on your back. I even breastfeed the child while I am walking around and doing shopping. Nobody notices that. I don't have to to find a quiet place to sit down. If the child falls asleep, the carrier must have a support for the head. Generally it should have a good spine, hip, head, and neck support. It is important to buy a quality Baby Carrier which is comfortable and safe. It has to fit you well so you don't get tired. It should be easy to put it on and to put the child into it. I bought a Baby Carrier from Babybjorn and I like it very much. Highly recommended.