The Emperors of China resided and ruled in the Forbidden City for almost 500 years. It is in the center of Beijing. Ordinary people were not allowed to enter. Only the Emperor and his staff. It consists of almost 1000 buildings. When it was built in the years 1406-1420 the best architects and craftsmen were hired for it. The raw material for the buildings was freighted from far-away provinces. Only the best of the best in those days. It is said that a million workers were involved in building it. It is now listed by UNESCO as a World Heritage site.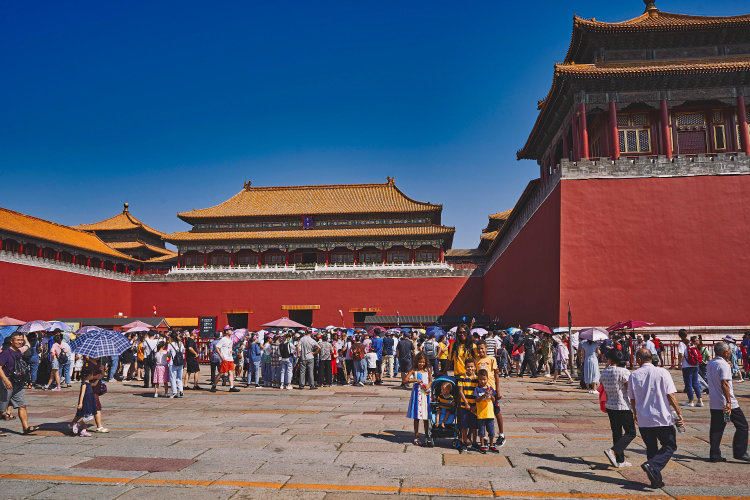 The last Emperor was driven from the Forbidden City in 1924. When the word spread out that the Forbidden City was open for public, it caused traffic jams in and around Beijing. Everybody wanted to go there and see it. There were no cars in those days, so the traffic jams must have been caused by pedestrians and horses.
The Forbidden City is one of the most popular tourist attractions worldwide. On weekends and national holidays it is very crowded. To avoid queues it is possible to buy tickets online in advance. Foreigners need to provide passport numbers when buying online tickets. At admission, you need to show your passport to enter.
If you have bought tickets online, you can enter from the east side to bypass the long queues. From there you can get to the South entrance. To walk through the central axis of the Forbidden city from South to North, you need 3-4 hours. If you also want to visit the East and West complexes and go inside buildings to see the magnificent treasures, you need a full day.
How to get there
Take Taxi or Subway to the Forbidden City...
Directions
With Taxi:
In the Didi App, type in "The Palace Museum". Choose that as destination.
With Subway:
Take Subway Line 1 to Tiananmen East Station, Exit A or Tiananmen West Station, Exit B.
Alternatively take Subway Line 2 and Exit Qianmen Station, Exit A.