Going around with Taxi in China is very easy and comfortable if you use the Didi app.
You can download the English version from the app store.
I prefer to order the Premier Taxi and not the normal ones. They are clean, the driver is polite, the way of driving is calm and you get bottles of water to drink. The price is not much higher than for the normal Taxis. In order to be able to use the Premier Taxi you need to put in your Credit Card details in the app. International Credit Cards are accepted. I have never had any issues with this way of payment.
When you open the app it automatically chooses your current location as pick up point.
As you type in the destination address proposals appear. Many streets in China are named North (Chinese: Bei), South (Chinese :Nan), East (Chinese: Dong), West (Chinese: Xi). So if you for example want to go to Sanlitun North Road, the proposal can be Sanlitun bei Road.
Choose the correct proposal and order the Taxi.
After a moment, the the name and the license plate of the driver appears.
Often the driver calls you and then you will have difficulties with communication because they normally only speak chinese. To prevent that, send the driver a message. Automatically you get proposed messages. Choose the first one, "My GPS coordinates are correct".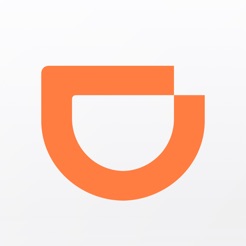 This is the Logo for the Didi app.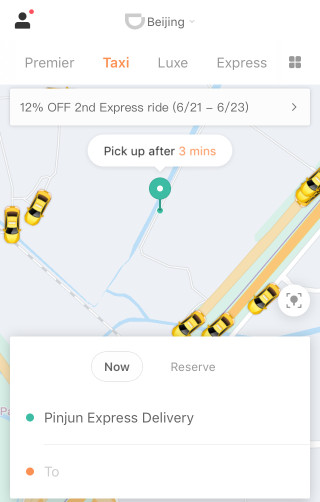 When you start the app you see this.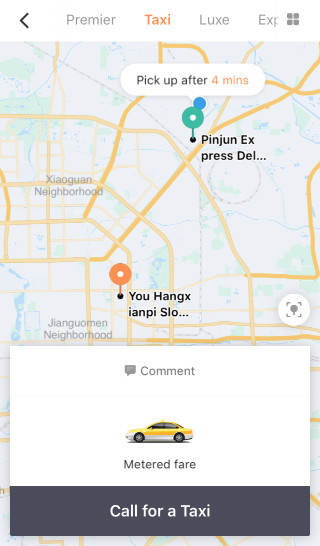 After typing in the destination, you can order a Taxi.
To request a premier car, press "Premier" on top of the screen.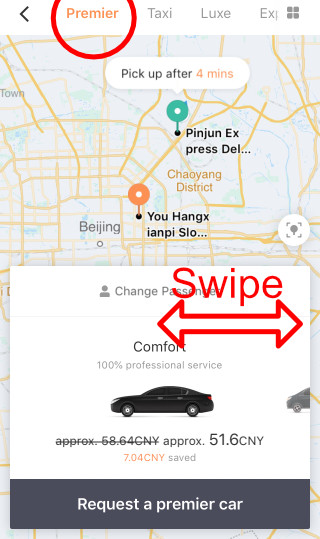 Swipe to get more options…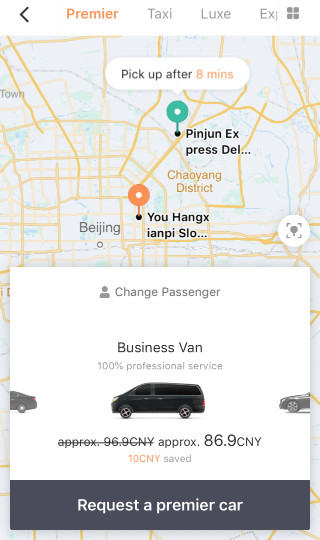 …for example a Van for up to 7 passengers.