If you want to travel inside China the high speed trains are a very good option. They are very reliable and always on time. There are some details that are different than in other countries.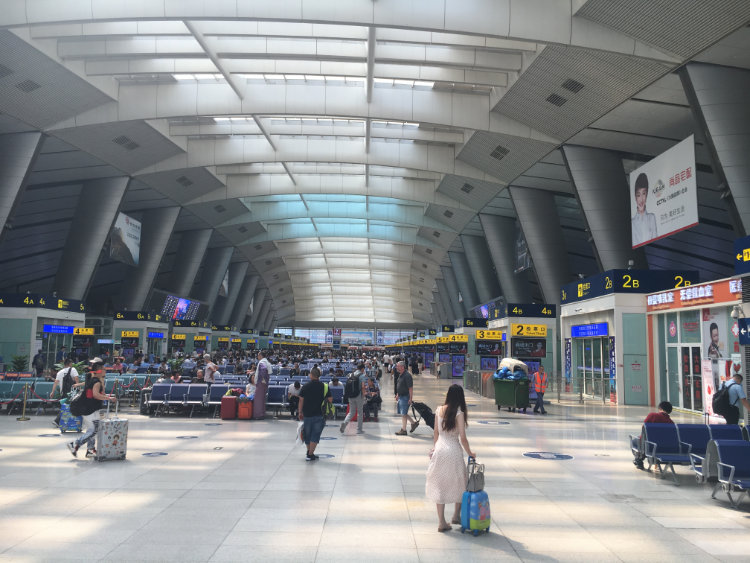 Beijing South Railway Station
Shanghai Hongqiao Railway Station
Buying a ticket
You can buy a ticket online with your phone or computer. You need to specify the exact date and time. There are no open tickets which allow you to jump on any train like in Europe. Each passenger gets a dedicated seat. If you are travelling in a group, then you should buy tickets for all passenger at the same time so you can sit together.
You need to go a train station to get the physical ticket. You can do this any time, so if you have booked several tickets for a journey, you can pick up all of them at the same time. Bring the passports of the passengers.
Boarding the train
At the train station you need to look for the track number where your train is departing. However, you can't just go to the track. The boarding works like at the airport. About 30 min before departure they open the gates to the track. You need to show your ticket and passport. All tickets have reserved seats. Look for your Coach number and your Seat number
Food and Drink
You can buy drinks and snacks on the train, but the selection is limited. You are allowed to bring your own food and drinks with you.
First and second class
The first class has 2 seats on each side of the aisle. The second class has 2 seats on one side and 3 on the other side. There is more space in the first class. You also get some complimentary snack. It is not such a huge difference between the travel classes.
Comfort and safety
The train goes with speed up to 350 km/h. Inside you can hardly feel this. It is quiet and comfortable. Usually the trains in China are very well booked. There are not many empty seats. The service personnel check frequently if everything is fine. They check if the bags on the overhead shelves are securely stowed so they don't fall down. The cleanliness is good and the lavatories are also in a clean and good condition.