The beautiful Shangri-La hotel in the city centre of Hohhot, Inner Mongolia is a 5-Star hotel and very elegant and clean. They have top luxury decorations and paintings. High ceilings with huge crystal lights. They have historic Mongolian style houses and artifacts.
Location
The Hotel is located in the city center of Hohhot. It is a perfect location.
Rooms
The rooms are nice and big with expensive wooden furniture. We had suites with a beautiful view. It was quiet. We didn't notice any noise from other guests.
Service
Many of the staff was beautifully dressed up in traditional Mongolian costumes. They were very friendly and the service was good.
Food
The breakfast was Western and Chinese with a big selection of food. We always had a dinner buffet in the evening. They had a Seafood buffet with all kinds of seafood and Japanese Sushi, but they also had grilled beef and Mongolian lamb chops. In a second restaurant was a Grill buffet with beef and burgers. The kids love to go to a dinner buffet. They can choose whatever they like to eat. It is always easy for everybody. No waiting for the ordered food to come.
Bar
Next to the Lobby was the Lounge with relaxing live music. The hotel also had a lovely designed and Mongolian decorated bar with live music in the evening. It was very nice and comfortable to enjoy the evening after the kids were in bed.
Activities
There is a nice indoor swimming pool. Also a smaller pool for young children. By the pool is a small shop that sells swimming clothes and hair caps. You are not allowed to enter the pool without a hair cap and goggles.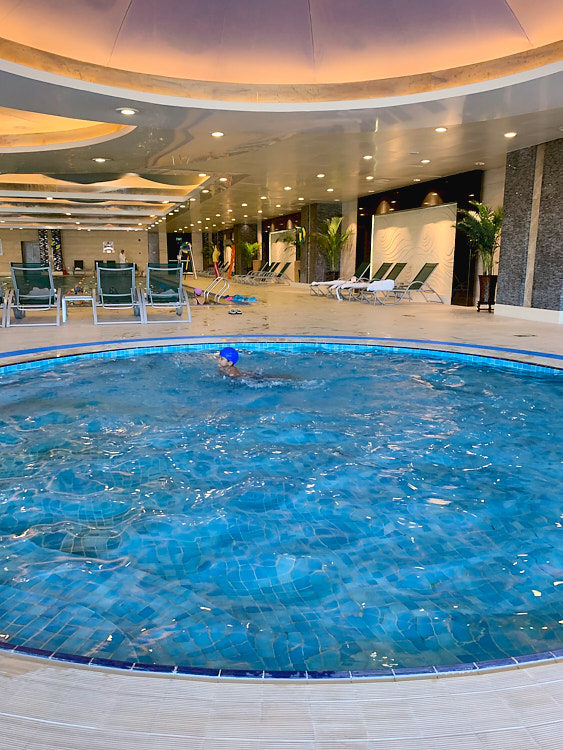 Child friendly
At the Restaurant the didn't charge for children below 6 years old. Children between 6 and 12 pay half price. There were plenty child seats at the restaurant and a play area. The room however didn't offer baby cots. That is normal in China.
Cleanliness
The hotel is clean, tidy and well maintained. However there was a scent of cigarette smell in the room. Other guests had been smoking inside the room before.
My Rating for Shangri-La Hohhot